Welcome to 18th World Rose Convention
The 18th World Rose Convention Friday 29th June – Wednesday 4th July will be hosted by the Danish Rose Society. For the first time in the history of the World Federation of Rose Societies, a WRC goes to Scandinavia. Copenhagen will be the host city, and the theme will be "A Fairy Tale of Roses".
Hans Christian Andersen writes about the nightingale who praises the rose as a symbol of beauty and love. That is the reason why the nightingale features significantly in the logo for WRC2018.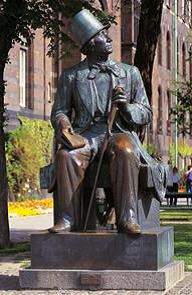 "A Fairy Tale of Roses" will open in Copenhagen Town Hall – with Hans Christian Andersen sitting guard outside. The programme for the afternoon will take place in Rosenborg Castle, in the King's Garden, in the centre of Copenhagen. The breeder of the convention rose, Poulsen Roses will be hosting a reception and Her Royal Highness Crown Princess Mary is invited to name the rose.
Afterwards there will be guided tours of Rosenborg Castle and the King's Garden. Rose trials in accordance with WFRS international rules will be held on the lawns in front of the castle. The roses are new scented roses from the following northern European rose breeders: Poulsen Roses, Kordes und Söhne, Rosen Tantau, and David Austin Roses. It will be both exciting, festive, and in fitting surroundings for the Rose. The roses will later be planted in a new garden for the senses for the blind and the weak-sighted.
Naturally, the complete programme, from the opening day on 29th June to the closing ceremony on 4th July, has not yet been finalized. But there is no doubt that every day of the congress will be busy, enjoyable, and rich in experiences, with interesting and instructive talks.
Before and after the congress in Copenhagen, 5-days pre- and post-tours round Denmark and southern Sweden will be offered. Details about the programme as a whole will be published continuously on the homepage.
Scandinavian and international speakers have been invited to share with us their knowledge about different conditions, the latest research achievements, and the most interesting current rose themes.
The 25th jubilee of the Danish Rose Society  and the golden 50th jubilee of the World Federation of Rose Societies will be launched from the slipway decorated with roses in the Rose Garden in Valby Park, and be closed with a grand firework display in the Tivoli Gardens. There will be outings to a number of public and private rose gardens, as well as Christiania, the Oval Gardens, and Queen Louise's Rose Garden at Bernstoff Palace. We also plan a royal rose naming ceremony at Fredensborg Castle.
The tour will also include a visit to the unique rose collection at Gerlev Park. Wednesday evening, 4th July, will see the end of 6 days' compact congress, with a ceremony where the next host of the next world congress, Australia, will receive the WFRS banner.